Microsoft Dynamics 365, een nieuwe clouddienst
Van 10 tot 14 juli 2016 vond het jaarlijkse WPC congres, Microsoft's wereldwijde partnercongres, plaats. Ongeveer een 20.000 Microsoft partners uit 144 landen verzamelden in Toronto. Ook Net IT was uiteraard van de partij. Er werd gesproken over de toekomstplannen en nieuwe ontwikkelingen van Microsoft. Dit jaar was er extra veel aandacht voor Microsoft Dynamics 365, een nieuwe clouddienst dat in de herfst van 2016 zal worden gelanceerd.

Wat is Microsoft Dynamics 365?
Microsoft Dynamics 365 zal Dynamics CRM Online en Dynamics AX Online (ERP) of Project "Madeira" samenbrengen in één clouddienst, met specifieke apps om belangrijke bedrijfsprocessen te stroomlijnen – zoals Finance, Sales, Customer Service, Field Service, Project Service Automation en Marketing. Er zullen twee versies bestaan van Microsoft Dynamics 365: de 'Business'-versie voor KMO's en de 'Enterprise'-versie voor grotere bedrijven.
Er zullen eveneens twee soorten licenties bestaan: een licentie per toepassing of een licentie gebaseerd op de professionele rol van medewerkers. Microsoft voorziet hiermee dat bedrijven kunnen starten met de Dynamics 365 apps die ze op dat moment nodig hebben, dat ze op eigen tempo kunnen groeien en eventueel later andere apps snel en eenvoudig kunnen aanschaffen.
Microsoft Dynamics 365 + Power BI + Cortana
Binnen de Microsoft Dynamics 365 apps zullen klanten ook toegang hebben tot Microsoft Power BI en Cortana software. Met Cortana Intelligence bijvoorbeeld zullen verkopers automatisch cross-selling opportuniteiten ontvangen en kunnen voorspellen welke producten en diensten klanten in de toekomst nodig hebben.
Of een ander voorbeeld, toegang tot IoT (Internet of Things) data in Dynamics 365 zal het voor field service medewerkers mogelijk maken om onregelmatigheden sneller te detecteren en actie te ondernemen alvorens er erg grote storingen optreden.
Microsoft Dynamics 365 + Office 365
Microsoft Dynamics 365 zal ook nauw geïntegreerd worden met Microsoft Office 365 met behulp van een gemeenschappelijk datamodel. Dit moet ervoor zorgen dat medewerkers productiever kunnen werken. Om het met de woorden van Jujhar Singh, Corporate Vice President van Microsoft Dynamics CRM, te zeggen 'Dynamics 365 enables greater productivity by connecting structured workflow of business applications and processes (Dynamics 365) with the unstructured work of collaboration and productivity (Office 365) (bron: 'Insights form the Engineering Leaders behind Microsoft Dynamics 365 and Microsoft AppSource' by Jujhar Singh).
Bijvoorbeeld, een salesmedewerker ontvangt een aanvraag via e-mail en kan hierop onmiddellijk in Office antwoorden met een quote die is gecreëerd op basis van informatie uit de Dynamics 365 Finance of Sales apps; met de juiste prijzen, korting, … . Dit alles zonder dat de salesmedewerker Outlook moet verlaten.
Microsoft Dynamics 365 + digitale transformatie
De lancering van Microsoft Dynamics 365 kadert binnen één van Microsoft's ambities om innovatieve oplossingen te vinden voor bedrijfsprocessen in deze tijd van digitale transformatie. Satya Nadella, "Businesses of all sizes in every country will not just use digital technologies, but become digital companies themselves. … And let's be clear – digital transformation won't happen with another bolted-on cloud app or a giant implementation of monolithic and closed business application packages. Digital transformation requires systems of intelligence that are tailored to each industry, each company, each micro-task performed by each person." (bron: 'Reinventing Business Processes' by Satya Nadella)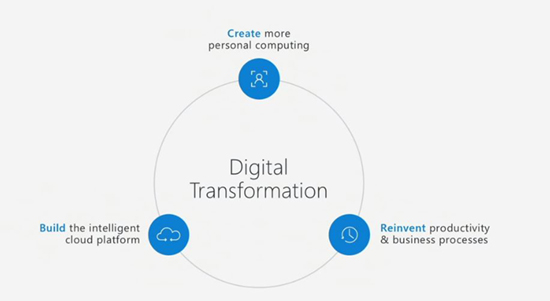 > Lees ook: Microsoft's WPC 2016: digitale transformatie is de grootste opportuniteit