B2B Social Media Marketing with ClickDimensions
Marketing via Social Media is much more than automatically scheduling your posts to Facebook, LinkedIn, Twitter, YouTube & Instagram. You want to know who you are reaching, who is clicking through and you want to be able to continue to nurture and follow up on those leads.
If you already use the standard ClickDimensions solution in Microsoft Dynamics, then you know that only "basic posting" functions are available. With the ClickDimensions Social Marketing Add-on you can turn your CRM application in Microsoft Dynamics into a professional tool for B2B social media marketing.
Fully integrated into Microsoft Dynamics
How do you link contact moments on your social media channels with leads in your CRM application? You may be (without realizing it) engaging the same prospects with your social messages, but because you don't know who you're reaching, you can't possibly follow up those leads in a targeted manner.
Because ClickDimensions is fully integrated with Microsoft Dynamics, users will have data such as "Social Clicks" in the CRM-system. If a prospect/customer was ever identified (by filling out a web form or by clicking on an email with a link to your website) and then later clicked through on social media posts, that prospect/customer's moment of contact is also automatically tracked in your CRM application.
All contact moments via social media become visible in the customer journey and you gain insight into your marketing contribution. The collected data provides insight into which topics your prospect/customer is interested in, so that you can engage in a targeted and personal way via marketing and sales.
Interesting to know for ClickDimensions customers: Net IT can group all interaction data from Contacts by Account. In this way you obtain a complete view of the customer journey of an entire organization. This is of course very interesting in a B2B context, because usually several people are involved in the purchase decision of your product or service. By grouping the individual contact moments of different people per organization, you gain insight into the customer journey of the entire organization as a group of individuals.
Facilitate employee advocacy
With the ClickDimensions Social add-on you can post messages on behalf of others, for example in the name of the CEO, who may have a large number of followers but may not have enough time to manage the social media profile himself. You can prepare messages from ClickDimensions that others can easily share, relieving them of the work of posting themselves. In addition, you can follow through which social media profiles the clicks came in.
Measuring means knowing
The big advantage of centralizing your marketing analytics data is that it's a breeze to keep track of the important metrics (KPIs) that are relevant to your marketing objectives. Thanks to reporting, you learn about what works and what doesn't. Mapping out ROI becomes easier and planning for future campaigns is no longer based on guesswork. Analytics in ClickDimensions allows you to really understand the impact of your social campaigns.
Tip! Download the social media guide for B2B marketers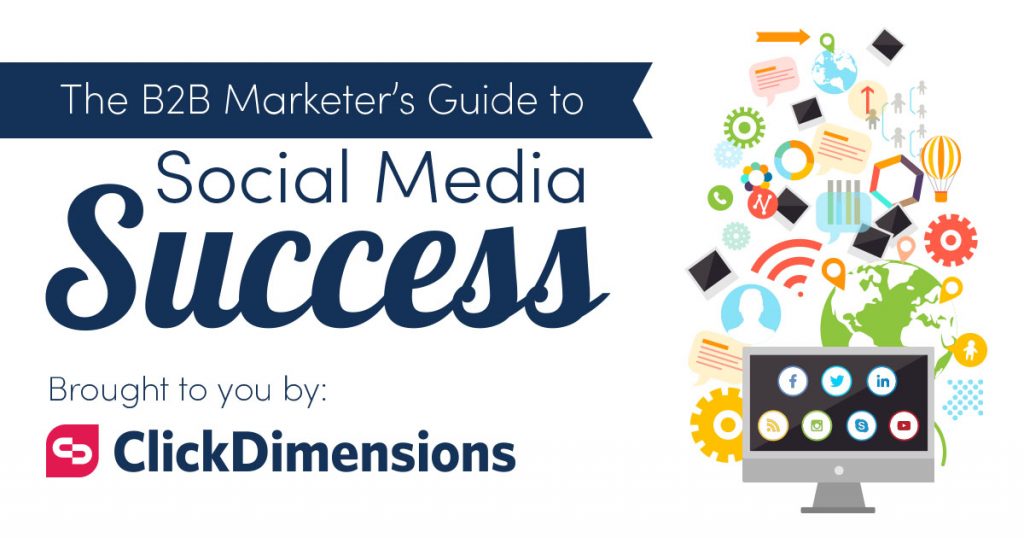 ClickDimensions wrote The B2B Marketer's Guide to Social Media Success, a free e-book that you can download here.