CRM Business Case: 9 essential parts – Infographic
Why a CRM Business Case?
A CRM Business Case is a great initial step towards a successful CRM implementation. During the preparation of the Business Case, a thinking process is started within the organization, which is an excellent preparation for the entire CRM process and the new way of working. You will gain insight into the feasibility and the return-on-investment that can be achieved with CRM. Therefore, a CRM Business Case is an excellent way to convince management and stakeholders of investing in CRM. It shows exactly how CRM will have a positive impact on your business.
A CRM Business Case proves the rationale of the investment, bridges planning and execution and ensures well-founded tactical decisions.
9 essential parts
When creating a CRM Business Case, there are 9 essential parts to consider carefully. You can find them in the infographic below.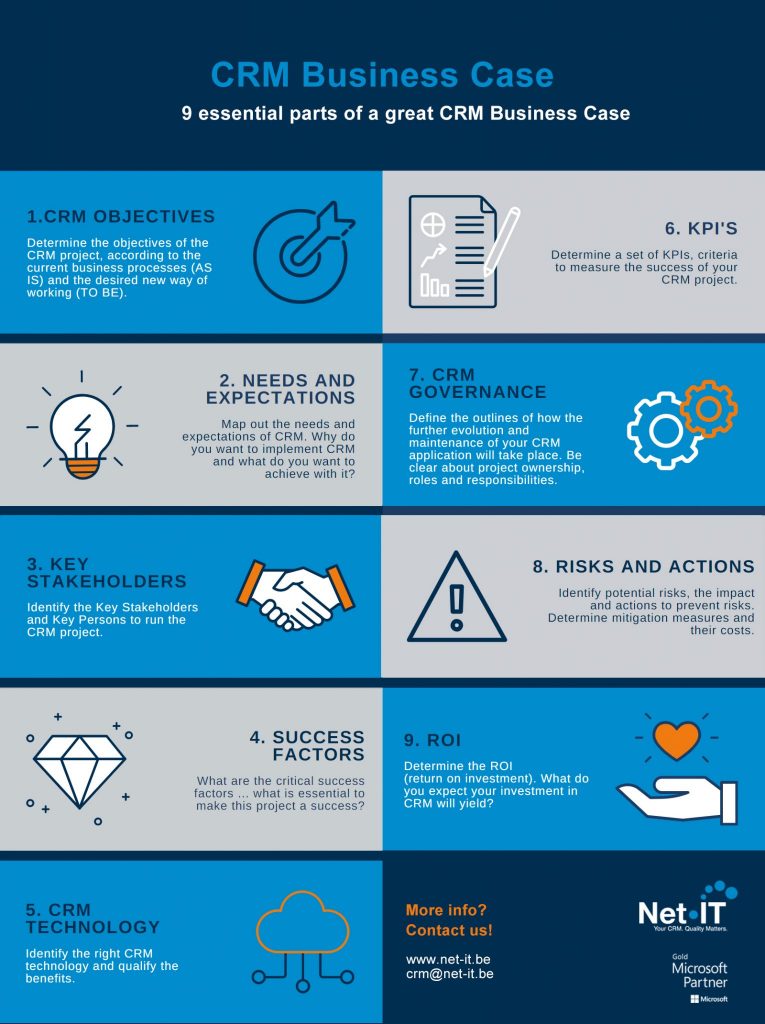 Click here to download the infographic
Objectives, needs and expectations
A good start of a CRM Business Case is to determine the business objectives, in relation to the current and the desired business processes. Ask yourself: why would your organization want to invest in CRM? And what do you want to achieve with it? A CRM project is only truly successful when the desired business objectives are achieved, the system supports the intended processes well and the users work well and happily with it. "CRM software is just a tool. The most important is to ensure that your operating processes are in order, "says our customer Jan Ameloot of Delta Light.
Popular CRM objectives are:
centralize customer information;
focus on the right customers;
retain existing customers;
gain a better insight into the existing pipeline (opportunities);
segment target groups for targeted marketing action and communication;
increase conversion ratio from lead to customer;
monitor your sales teams more efficiently.
Success factors
A success factor for a good CRM project is clearly describing what you want to achieve with it. In addition, other important success factors are a clear communication plan, a stable project team and CRM training. Based on our experience as a CRM & business IT partner, we wrote an ebook about the 10 most important success factors for a successful CRM project.
Let this ebook inspire you to make your CRM project a success!
Download it for free via this link >> https://www.net-it.be/en/downloads/e-book-10-success-factors-of-a-crm-project/