Highlights from 2019 Release Wave 2 for Dynamics 365 CE
On June 10, 2019, Microsoft published the release plan for the next update of Dynamics 365 and the Power Platform. Every 6 months, Microsoft launches a big update and announces all the new and improved features via the release plan. The next important update starts in October 2019 and is named the "2019 Release Wave 2" or as we also call it, the October '19 Update.
Make sure to put the next dates in your calendar:
• August 2, 2019: administrators get access to the new version for testing and evaluation purposed in a sandbox environment.
• Starting from October 2019, the new update will be generally deployed.
Unified Interface
The new features are developed on the Unified Interface and will only be available with you use the Unified Interface. For this reason, it's advisable to switch to the more userfriendly Unified Interface.
Dynamics 365 Customer Engagement update: highlights
The complete release plan announces hundreds of new features for Microsoft Dynamics 365 and the Power platform.
At Net IT we're focused on what's new in Dynamics 365 Customer Engagement (Sales + Marketing + Service + Field Service + Project Service Automation). It would take us too far to mention all novelties, that's why we made a selection of new features that caught our eye.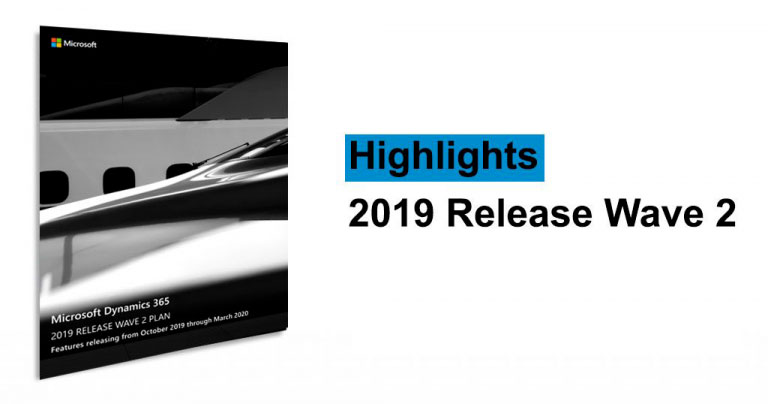 >> Download the entire release plan for Dynamics 365 Customer Engagement (pdf, 350 pagina's) via https://go.microsoft.com/fwlink/p/?linkid=2094533
💡 Highlights in Dynamics 365 for Sales
The new "business card scan"-app will enable you to scan the information on a business card (via OCR, Optical Character Recognition) and bring this data to Dynamics 365.
The "Softphone dialer"-application will make it possible to launch a phone call within D365 and will make it easier to register the details of a phone call.
The integration with the LinkedIn Sales Navigator gets improved. There's a new function for sending out InMails via D365 and track those as an Activity.
The integration between Microsoft Teams and Dynamics 365 gets expanded. From a CRM-record it will be possible to generate a new Teams-channel. Related Users are automatically suggested as Channel Members. The further integration is an important step to merge Dynamics 365 and Microsoft Teams as one work environment.
Users get more control over the automatic creation of Account- / Contact- / Opportunity-records at Lead Qualification.
With the further development of Sales Insights, Microsoft puts Artificial Intelligent to work to determine the "next-best-action".
💡 Highlights in Dynamics 365 for Marketing
The marketing automation-solution in Dynamics 365 makes a bold move forward with a new and improved feature set.
New layout-editor for the design of e-mailtemplates.
In e-mailcampaigns there's the possibility for automatic Split A/B Testing.
The workflow-engine for approval processes of marketingmaterial and -campaigns is built with Microsoft Flow. This proves that Microsoft Flow comes forward as the favoured option for building workflow automation.
With Microsoft Form Pro, it's possible to build surveys and use posted data for segmentation.
Dynamics 365 Customer Insights & Market Insights applies artificial intelligence to deliver new insights about customers and prospects.
💡 Highlights in Dynamics 365 for Customer Service
In the October '19 release, productivity of the customer service agent is one of the main focus points. Several improvement must ensure that agents are able to work more efficiently.
In order to deliver "Omnichannel Engagement", Microsoft is creating new possibilities to facilitate seamless customer service via different communication channels (phone, e-mail, chat).
There's an extension of Dynamics 365 to communicate via chat and SMS.
"Skill based routing" becomes possible to assign a request to the right team.
Sentiment-analysis gets further refinement.
Microsoft also applies artificiële intelligentie for Customer Service, for example to facilitate the process of deploying a powerful chatbot to support customer service. In the 2019 release wave 2, there'll be general availability of the "Virtual Agent" (momentarily in Preview).
"Service insights" is another application of AI, offering improved insights to management to take better business decisions.
💡 Highlights in Dynamics 365 for Field Service
Microsoft's entire suite for the management of on-site field services is being expanded for a more pro-active approach, a.o. to support new business models such as "outcome-based service" and "anything-as-a-service".
With Dynamics 365 Guides, technicians can be trained and guided more efficiently using mixed reality. This means that technicians can become operational more quickly. Also new features are coming up in the domain of resource planning and Azure IoT.
💡 Highlights in Dynamics 365 for Project Service Automation
"Microsoft Project", the solution for projectplanning and resource scheduling is moving to the Common Data Service platform.
On a technical level, this means an important step forward for the integration of Microsoft Project and the Dynamics 365 app for Project Service Automation". The possibilities for planning projects and tasks from Microsoft Project will become integrated with the PSA-app as one work environment.
What's new on the Microsoft Power Platform?
Regarding the Microsoft Power Platform (Power BI + PowerApps + Flow), the AI-Builder had been announced earlier. This new feature is integrated in PowerApps and Microsoft Flow and serves as the low code / no code tool to build AI-apps without technical complexity.
Power BI's user interface gets a face-lift and becomes more aligned with the other Microsoft Office-applications. Also a new set of features and improvements for reporting and querying is coming up.
PowerApps Portals will enable businesses to build low-code responsive websites on which users are able to manage D365-data.
As mentioned, Microsoft Flow becomes the central engine for workflow automation. This means it's much more interesting to start using Microsoft Flow in stead of the classing workflow-processes in Microsoft Dynamics 365.
>> The new features of the Power Platform are listed in a separate release plan (PDF) that you can download via this link: https://go.microsoft.com/fwlink/?linkid=2094633