How to determine the digital transformation roadmap
"Transformation isn't easy, but it's absolutely necessary for all companies to compete and remain relevant."
– Alysa Taylor, Corporate Vice President, Business Applications and Global Industry @ Microsoft
Create a team
Initiating an organization-wide thought process about how technology can contribute to the success of your business, that's teamwork!
Identify and mobilize key individuals in your organization who can provide meaningful input on what could be improved in the current way of working, according to the organization's strategic objectives. Make it clear that it's a team effort in which everyone can provide input from their own position or expertise. It's a plus if the team members are also able and willing to propagate the vision behind the transformation process in the organization in the future.
Make clear agreements with the team members about the preparation of the workshops so that they can take place efficiently. In addition to the objectives and the team composition, also make the planning of the workshops and when the presentation of the results will take place.
Envisioning workshops
During the workshops you map out the challenges and its root-causes in the organization. After that, collect all high-level ideas for improvement in the future. Review each customer process from start to finish and analyze the usefulness, potential improvements and inputs & outputs of each intermediate step. As a rule, eliminate the things that offer little or no added value and try to minimize friction for the customer.
Also think about how technology can support your own employees to be more productive and creative. In addition to improving the service to customers, improvements for internal operations are very important.
Think about how technology offers new possibilities such as new channels that you can use to bring your product or service to the customer. Or maybe you can also deliver your product or service in a different form? Feel free to let ideas go in all directions initially (divergent thinking).
After you have collected the relevant ideas about what to improve in the current way of working, it is important to align the ideas organization-wide (convergent thinking), to cluster the things that belong together (into clusters such as sales / marketing / service) and then categorize according to business priority. What needs to be tackled first and what could possibly be done later? This ranking is about making the best possible estimate of the expected business value of each improvement.
Translating your wishes and needs into a new way of working
After you have mapped out the challenges in your company and what a new, optimal way of working exactly means, it is time for a concrete solution. For this, you can be assisted by a technical partner who understands your business and who thinks along with you to design the most optimal solution that fits within your budget.
Microsoft Catalyst
Microsoft has developed the Catalyst program for Gold Microsoft partners, a professional methodology to help companies determine their digital transformation roadmap. In addition to theory, Catalyst also provides useful templates and provides structure for the execution of the preliminary study. Central to the Catalyst program is the "IDEA framework". I.D.E.A. stands for the 4 successive steps in the process: Inspire, Design, Empower & Achieve: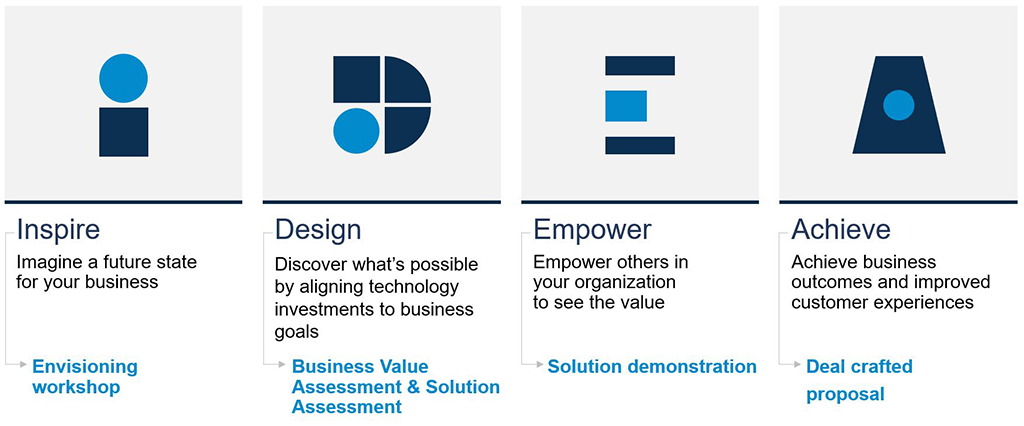 1. Inspire
In "envisioning workshops" you map out the challenges in your company (AS IS) and the new, improved way of working that leads to the realization of strategic objectives (TO BE).
2. Design
In this step you put the objectives and challenges into a new, balanced working environment.
A business/IT expert is able to understand where you want to go as a company, why and who is able to think about the most cost-effective solution that will pay off for your organization.
The result of this exercise according to the principles of "Design Thinking" is an IT architecture of your future digital workplace.
During this exercise, we also pay attention to the road traveled for digitization and digital transformation. We look at what is good to keep, and what will be best replaced or improved.
In this phase, we determine the technical solution that will support your business.
In every process we focus on the business value. What benefits are envisaged?
Devise a solution that's flexible enough to evolve with your organization and that's ready for the future.
3. Empower
If you want to be sure that the proposed technology will fulfill its promise, it is a good idea to develop a proof-of-concept that provides technical proof of specific core functions of the solution. A proof-of-concept also helps to imagine how the new digital work environment will be.
4. Achieve
As a last step, a blueprint of the solution is described and you receive a concrete project proposal including budget and timing.
You know the size of the investment, the different phases and in each phase what benefits you can expect for which budget.
After this preliminary study, you have drawn up the plan for the next phase in your digital transformation.
You know what benefits this will deliver to your company, what investment this represents and by when the different phases will be realized.