Dynamics 365 for banking and insurance
Digitization is continuing at a rapid pace, which is certainly the case for the financial services sector. Banking and insurance companies are constantly looking for innovative solutions to:
• to modernize and automate operating processes;
• extract workable customer insights from 'big data';
• deliver personalized, omnichannel customer experiences.
Microsoft Dynamics 365 is already established itself as the technology to drive digitization in financial companies. With the Dynamics 365 Financial Services Accelerator, customers and Microsoft partners can get jumpstart to build industry-specific solutions on top of Microsoft Dynamics 365 and the Microsoft Power Platform. The accelerator includes sample applications, business processes and dashboards specifically for banks and insurance companies.
The Financial Services Accelerator consist of:
Banking Accelerator
Insurance Accelerator (NIEUW – Preview)
Banking Accelerator
With the Banking Accelerator, banks and developers can quickly create solutions that provide a better banking experience. Solutions that drive customer acquisition, loyalty and long-term relationships.
The Accelerator contains a specific data model for financial institutions. This data model extends Microsoft's powerful Common Data Model with bank-specific data, such as loans, mortgages, referrals, branch data, credits, commercial deals, and more. An important and powerful asset is that the data model is compatible with the Banking Industry Architecture Network (BIAN) and Open Banking. This allows banks to share bank-specific data more easily, seamlessly and consistently across different systems.
In addition, within the Accelerator there are also sample apps, common workflows and (Power BI) dashboards available, which you can also combine with other business applications and productivity tools from Microsoft.
Example: "Prospect and Referral" Dashboard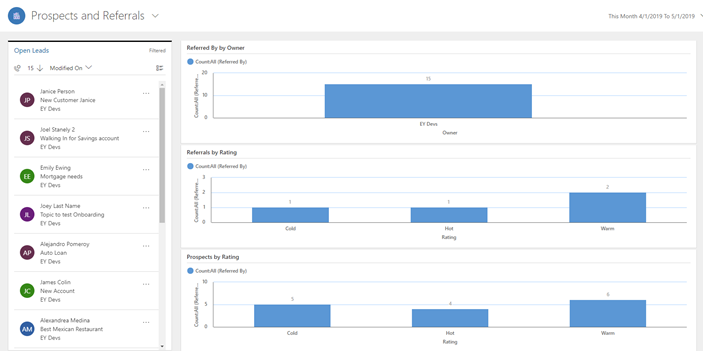 Example: "Certificate of Deposit" workflow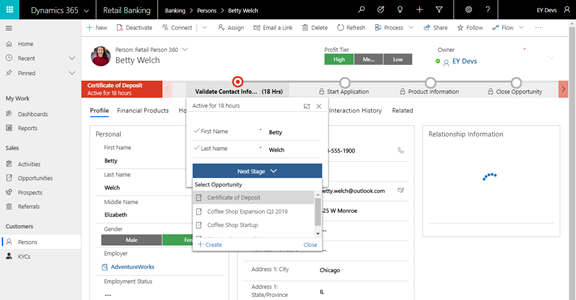 The Banking Accelerator is available through AppSource and GitHub.
Insurance Accelerator
The insurance component has recently been added to the Financial Services Accelerator and is currently still in Preview. This means that customers can access it early and provide feedback for improvement.
The Insurance Accelerator also includes a data model, but specifically for the insurance world. There are entities for insurance policies and coverages, policy documents and conditions, insurance products, insured assets, approvals, claims, exclusions, agencies, contracts, etc.
The Accelerator includes turnkey solutions for policy management, claims, customer onboarding and customer service. It also provides Power BI dashboards on policies, claims and future appointments. With Microsoft Power Apps and the Power Platform you can adapt the data model and the application to your requirements.
If you want to use the Accelerator with other Dynamics 365 apps, this is of course also possible. For example with the Dynamics 365 Customer Service app for a handy overview for service employees.
Example: "Customer 360"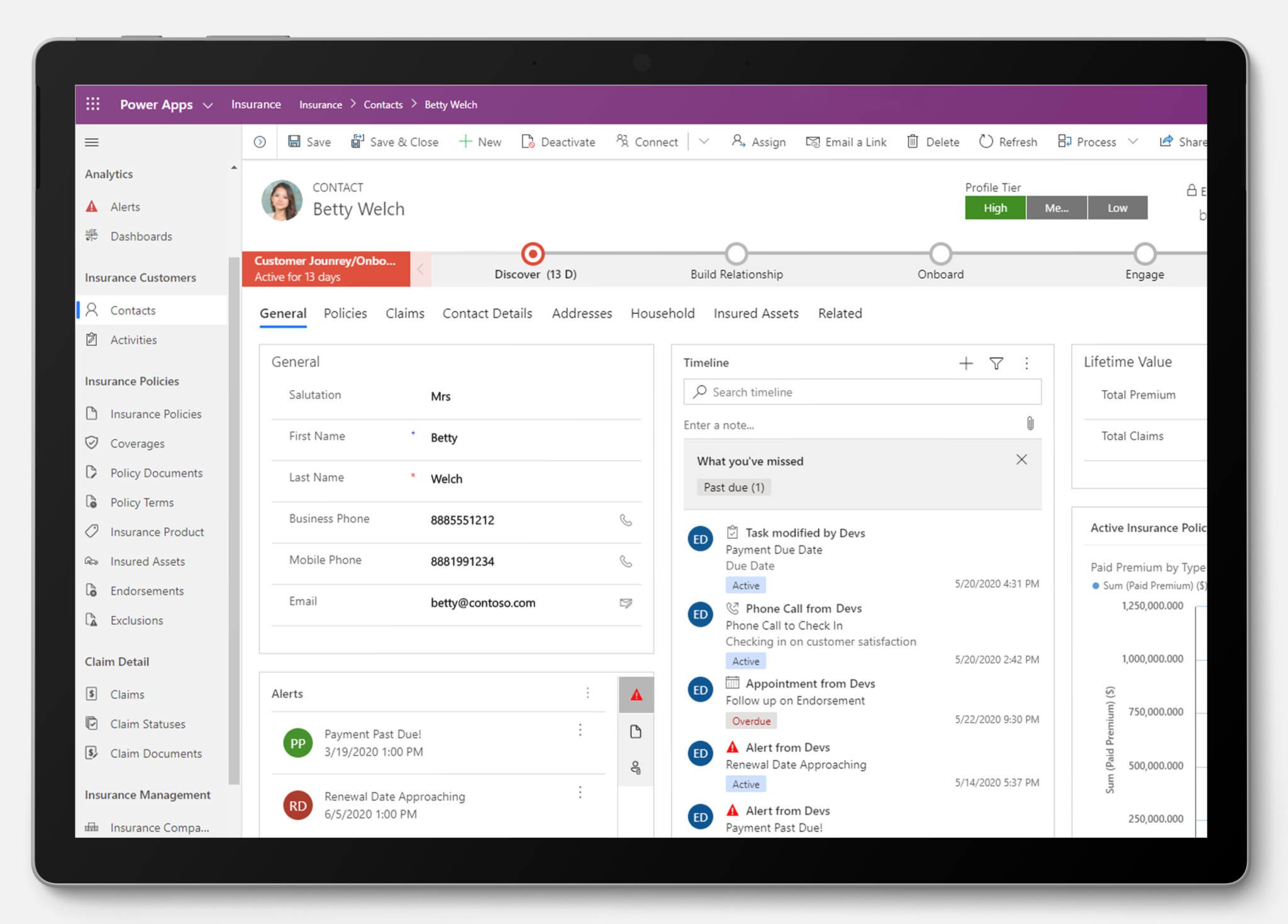 Example: "Agency" Dashboard