Microsoft Dynamics 365 update – 2019 Wave 2 Release
Op 10 oktober 2019 gaf Microsoft een live webcast over de recentste, grote update van Microsoft Dynamics 365 en het Power Platform. Sinds 1 oktober 2019 zijn de nieuwe features uit de "2019 Release Wave 2" algemeen beschikbaar. Deze allernieuwste release – een van de grootste tot nu toe – toont opnieuw dat Microsoft voortdurend investeert in artificiële intelligentie om proactieve inzichten te verkrijgen en intelligente actie te stimuleren.
James Philips, Corporate Vice President van Microsoft, was moderator van de webcast gisteren: "The organic creation of a unified, holistic platform centered on data powered by intelligence is what we've provided. … We're going to spend the next hour talking about all the innovation that we've delivered yet again."
Heeft u de webcast gemist of wilt u deze graag herbekijken, dan kan dit via onderstaande link:
https://mediastream.microsoft.com/events/2019/1910/BusinessApplications/player/BusinessApplications.html
U ziet:
highlights van de meer dan 400 functie-updates en nieuwe mogelijkheden van Dynamics 365 en het Power Platform
demo's met klantscenario's
enkele klantverhalen van Microsoft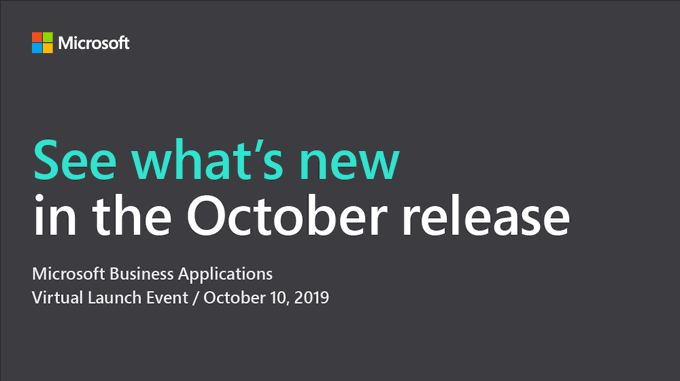 In de loop van de maand oktober 2019 wordt de update uitgerold in alle Dynamics 365 Customer Engagement-omgevingen. In de Europese regio's is de update voorzien tijdens het weekend van 18 tot 20 oktober 2019.
Meer artikels over de 2019 Wave 2 Release van Microsoft Dynamics 365:
* Microsoft nieuws van juni 2019: highlights Dynamics 365 Oktober '19 update >>
* Release wave 2 launches with over 400 updates, new apps, and industry solutions >>