Microsoft Business Forward 2018: wat is het recept voor digitale transformatie?
Eind maart verzamelden heel wat Microsoft partners in Amsterdam voor het Microsoft Business Forward 2018 event. Tijdens het event stond de digitale transformatie en de volgende release van Microsoft Dynamics 365, Power BI en Power Apps centraal. Wij waren er ook aanwezig en zijn alvast enthousiast over de Spring 2018 release van Dynamics 365.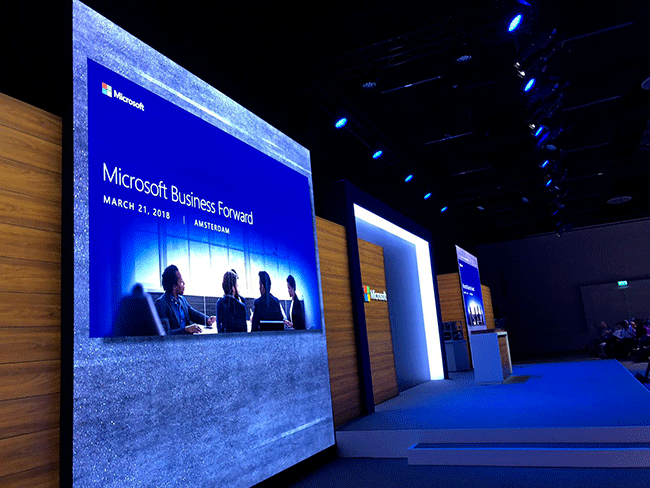 4 pijlers van digitale transformatie
And the conversation now is 'how do we get there?'" – Jean-Philippe Courtois
Tijdens de keynote verscheen Jean-Philippe Courtois, President Microsoft Global Sales, Marketing & Operations, als eerste op het podium en vertelde over Microsoft's visie en strategie om klanten te helpen digitale ondernemingen te worden. "Today there's no more confusion about the meaning of digital transformation. Every organization all across the planet is talking about the destination, about becoming a digital business. And the conversation now is 'how do we get there?'", zei Jean-Philippe.
Hij had het over de vier pijlers van digitale transformatie volgens Microsoft. Deze vier pijlers werden al eerder voorgesteld door Microsoft's CEO, Satya Nadella tijdens andere Microsoft evenementen.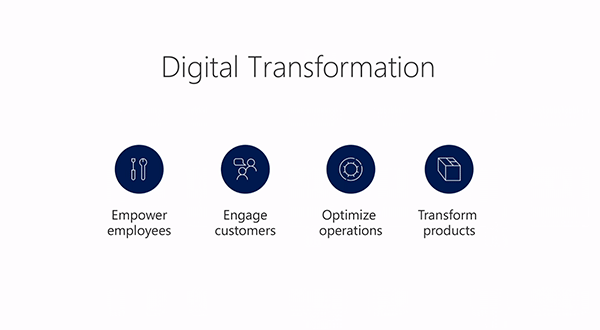 Jean-Philippe herhaalde ook nog eens de 4 oplossingen of 'ingrediënten' om een digitale onderneming te worden.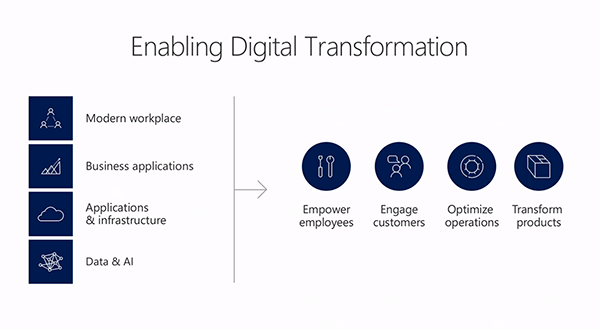 Moderne werkplaats: een end-to-end, veilige, mobiele en creatieve samenwerking door alle medewerkers
Zakelijke applicaties: wendbare applicaties om acties uit data te kunnen definiëren en uw organisatie bij te sturen
Applicaties en infrastructuur: een cloud computing platform, zoals Azure
Data & Artificiële intelligentie: uw gegevens inzetten als troef om meer te bereiken met uw bedrijfsprocessen en productiviteit
Digitale transformatie versnellen met Dynamics 365
"Digital transformation is real across every single industry." – James Philips
Na Jean-Philippe was het de beurt aan James Philips, Microsoft's Corporate Vice President Business Applications Group. James begon aan zijn keynote met deze woorden: "What's the prescription for digital transformation? How do we make it real and less abstract? … are one of the questions we frequently get. That's why we created this point of view about digital feedback loops", zegt James. Volgens hem is data van klanten, producten en medewerkers de brandstof voor digitale transformatie, brandstof voor intelligentie en het leveren van unieke ervaringen, waarbij die ervaringen dan weer verder data verschaffen om interacties te verfijnen.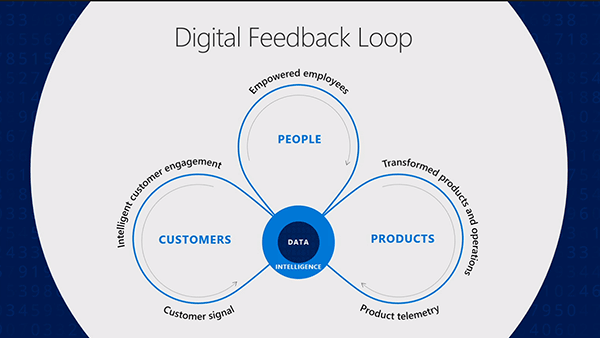 En we hebben enorm veel data, benadrukt James. Data van klanten die onze websites bezoeken, die feedback geven over onze merken via social media, die winkels bezoeken en onze producten gebruiken. Data van onze producten en diensten zelf die steeds meer 'verbonden' zijn en direct inzicht bieden in hun gebruik. Ook data van onze medewerkers die communiceren en samenwerken met moderne tools zoals Office 365.
Microsoft Dynamics 365 is gebouwd rond al deze data en intelligentie en draagt bij tot efficiëntie en nuttige inzichten voor organisaties wereldwijd.
Spring '18 release
"Today is a big day for Dynamics 365. I'm thrilled to announce the spring 2018 release for Microsoft Business Applications. This release represents continued innovation across the entire product line with hundreds of new capabilities and features", zegt James.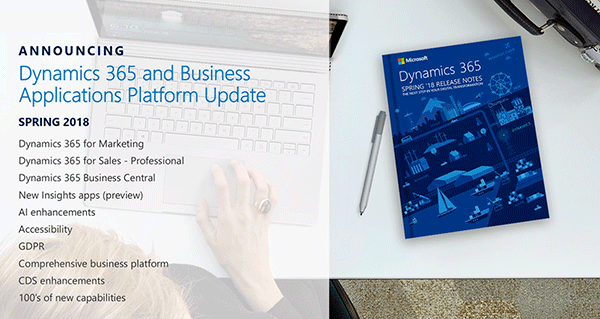 Een kort overzicht van de grootste updates.
Microsoft Dynamics 365 voor Marketing, dat eerder al werd geïntroduceerd, zal algemeen beschikbaar zijn vanaf de 'spring release'. Deze app van Dynamics 365 is een nieuwe marketing automation applicatie. In het blogartikel Marketing automation met Dynamics 365 voor Marketing leest u er meer over.
Microsoft Dynamics 365 for Sales Professional is een nieuwe en 'lichtere' versie van de bestaande Sales app, bedoeld voor kleinere bedrijven. De app zal ook verkoopprocessen en productiviteit optimaliseren door o.a. opportuniteitenbeheer, verkoopplanning en prestatiebeheer.
Dynamics 365 Business Central, een nieuwe app voor voor financieel en operationeel beheer, sales en customer service.
Insights apps binnen Microsoft Dynamics 365 for Sales, gebaseerd op artificiële intelligentie, worden algemeen beschikbaar met de volgende release.
Bijvoorbeeld de Relationship Assistant (geeft waarschuwingen en herinneringen), Auto Capture with Outlook (analyseert e-mails) en Email Engagement (levert inzichten vanuit e-mails).
De volgende Power BI Insights apps zullen bij de volgende release in preview beschikbaar zijn: Power BI for Sales Insights en Power BI for Service Insights. Inzichten zullen worden gegenereerd door geavanceerde intelligentie toe te passen op gegevens uit Microsoft en andere externe bronnen.Bijvoorbeeld, Power BI for Sales Insights zal extra voorspellingen (Predictive Lead Scoring) en vooruitstrevende inzichten bieden wat betreft de 'gezondheid' van een bepaalde klantrelatie (Relationship Analytics).
Grote update van de Common Data Service for Apps (Power Apps) om bestaande zakelijke apps in Dynamics 365 en Office 365 aan te passen en nieuwe te ontwikkelen.
Common Data Service for Analytics is een nieuwe mogelijkheid in Power BI om data uit verschillende bronnen te integreren en gebruikers toegang te geven voor analyse van alle voor hen relevante bedrijfsgegevens.
Microsoft heeft dus heel wat nieuwigheden in petto voor Microsoft Dynamics 365 en de volledige Microsoft Cloud. U kan de uitgebreide release notes via deze link inkijken en downloaden. Tijdens de komende weken zal Microsoft deze release notes verder bijwerken. Wij houden u hiervan op de hoogte.
---
Hou onze blog in de gaten voor meer informatie!
Bronnen voor dit artikel:
https://blogs.microsoft.com/blog/2018/03/21/accelerating-digital-transformation-with-the-spring-2018-release-for-dynamics-365-and-business-application-platform/